29feb(feb 29)8:00 pm14mar(mar 14)8:00 pmBlithe SpiritIpswich Little Theatre
Event Details
Presented by Ipswich Little Theatre
Theatre Performance

Look into the crystal ball and enjoy the wit, fun and farcical situations of this sparkling production of 'Blithe Spirit' at Ipswich Little Theatre's Incinerator Theatre.
Writer Charles Condomine invites local eccentric medium, Madame Arcati, to hold a séance at his house and asks along his friends, Dr and Mrs Bradman. His intention is to gather character inspiration from Madame Arcati for his latest book.
Despite initially thinking the séance has been a failure, it soon becomes clear that Madame Arcati has unwittingly brought back Charles' first wife, Elvira.  Once in the house, Elvira is unable to leave, and, as she cannot be seen or heard by Condamine's second wife, Ruth, she begins to create all kinds of mischief and trouble between the married couple.
When Elvira unwittingly causes Ruth's death in her attempts to bring Charles over to be with her, Charles becomes haunted by both of his now-deceased wives. Frustrated by their odd situation, the threesome call on Madame Arcati once more to send Elvira and Ruth back to the other side.
Legendary British playwright, Noel Coward's comic plays continue to delight audiences all over the world. This classic comedy is the first season for Ipswich Little Theatre Society for 2020
Performance Dates:
Saturday, 29 February 2020 @ 8:00 PM
Sunday, 1 March 2020 @ 2:00 PM
Friday, 6 March 2020 @ 8:00 PM
Saturday, 7 March 2020 @ 8:00 PM
Sunday, 8 March 2020 @ 2:00 PM
Friday, 13 March 2020 @ 8:00 PM
Saturday, 14 March 2020 @ 8:00 PM
Location: 
Incinerator Theatre
Burley Griffin Drive (off Griffiths Road), Ipswich QLD 4305
Tickets: 
$22.00 Adult
$18.00 Concession
$19.00 Subscribers Ticket
$15.00 Subscribers Concession
$16.00 Members Ticket
Tickets available from Ipswich Little Theatre.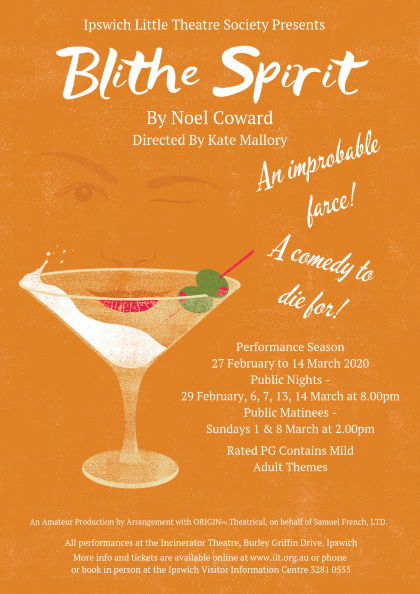 Time

February 29 (Saturday) 8:00 pm - March 14 (Saturday) 8:00 pm AEST
Location

Ipswich Little Theatre

Burley Griffin Drive
Organizer