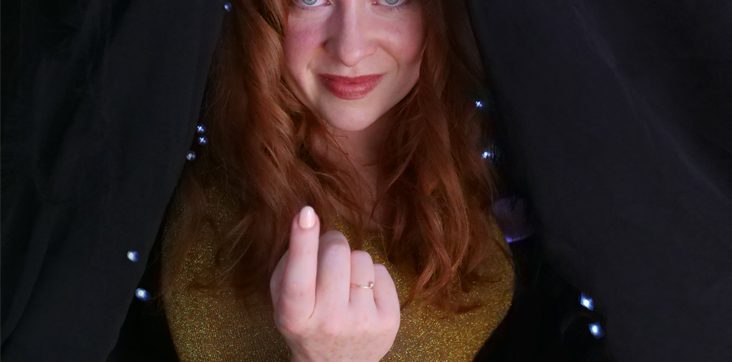 Time
Tues – Sun: 7pm, 8pm, 9pm sessions on show nights
6:00 pm - 7:00 pm
JSMR
Spinning Plates Co. and North of Eight proudly present, as a part of the 2022 Melbourne Fringe Festival
JSMR
Created and performed by Jessica Stanley
The award-winning ASMR Storytelling Experience becomes live at the 2022 Fringe Hub!
Autonomous Sensory Meridian Response or ASMR, as it's widely known, is the term used to describe the gentle brain tingles people get when someone speaks in a soft voice or hears pages turning, plastic crinkling, or a cat purring… and now you can experience this relaxing and calming sensation like never before.
Running live, at the 2022 Melbourne Fringe Hub, Spinning Plates Co. proudly brings audiences an exclusive interactive story-telling experience; JSMR. Created and performed by Jess Stanley, guests can tailor their participation by selecting from a menu including things like gentle whispering, a simulated haircut or being comforted by a friend after a hard day. Performed through headphones, so audiences enjoy the proper auditory experience that ASMR is known for, JSMR is unlike anything else on offer at Melbourne Fringe. No two shows are the same.
Proudly supported by the Fringe of the Hub, this unconventional, intimate show will take place in a warm and comfortable tent at the venue and will run three times a night for audiences no larger than ten at a time.
Winner of the 2021 Melbourne Fringe Art Unbound Award, after pivoting to an online experience during the Covid lockdowns, art and ASMR lovers now have the exciting opportunity to join Jess Stanley for the live presentation of this charming and calming theatrical event. Audience numbers are limited, book now to avoid disappointment.
Spinning Plates Co. is an independent artist collective forged in Melbourne and joined together by a love of creating. Launching in 2018, they are interested in presenting work that will continually develop, expand and challenge their craft, whilst always paying homage to technique and heart.
★★★★½ "a beautifully crafted production… an artist to watch…" – Mojo News
"a flawless performer and writer" – Australian Arts Review
"Stunning. Just stunning." – Chats with Creatives
"show stopping versatility" – The Bit Podcast
"imaginative and unique" – My Melbourne Arts
6 – 21 October, 2022
Tues – Sun: 7pm, 8pm, 9pm sessions on show nights
6 – 8 October 6pm sessions available (please check booking link for full details)
Tickets: $25 Full, $20 Concession, Grps 4+ and Tuesdays, $10 Mob tix
Bookings: 03 9660 9666 or online via www.spinningplatesco.com/jsmr
Venue: Festival Hub – Trades Hall (Loading Dock Bar), 54 Victoria St, Carlton VIC
www.spinningplatesco.com
Duration: 45 mins no interval
Suitable for audiences 15+
Warnings: Adult themes