16aug(aug 16)7:30 pm24(aug 24)7:30 pmSenior MattersSunnybank Theatre Group
Event Details
Presented by Sunnybank Theatre Group and Shining Lights Seniors' Theatre Workshop
Theatre Performance
'Senior Matters' is a stage production by Shining Lights Seniors' Theatre Workshop, a weekly acting class for older people run by the Sunnybank Theatre Group. It comprises of two one act plays that deal with issues about life in general and getting older in particular, and are lighthearted and engaging.
The first play as part of this series is called 'It's Never Too Late' and has been written by one of our group, Dianna Speed.  The idea for the play came from conversations with girl friends who, at various times, have talked about their experiences with online dating. Having heard so many tales of woe it seemed important to write a more uplifting story; one where a princess, of any age, could actually hope to find a prince.Once the writing began, the characters took on lives of their own and the action flowed naturally from their development.
The second play as part of 'Senior Matters' is called 'House of Tomorrow' and written by Susan Shear.
Performance Times: 
Friday, 16 August 2019 @ 7:30 PM
Saturday, 17 August 2019 @ 2:00 PM
Wednesday, 21 August 2019 @ 11:30 AM
Friday, 23 August 2019 @ 7:30 PM
Saturday, 24 August 2019 @ 2:00 PM
Saturday, 24 August 2019 @ 7:30 PM
Location: 
Sunnybank Theatre Group
14 Mains Road, Sunnybank QLD 4109
Tickets: 
$25.00 Adults
$22.00 Concession
$12.00  12 Years and Under
Tickets available from Sunnybank Theatre Group Website or by calling the theatre at 07 3345 3964.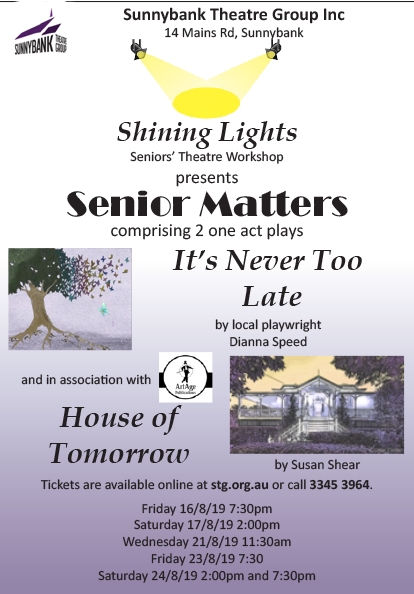 Time

16 (Friday) 7:30 pm - 24 (Saturday) 7:30 pm AEST
Location

Sunnybank Theatre Group

14 Mains Road
Organizer