31jan01febTime LessRedcliffe Musical Theatre
Event Details
Presented by Redcliffe Musical Theatre
Music Cabaret Performance

Redcliffe Musical Theatre is proud to present 'Time Less'. Starring Thomas Armstrong-Robley and his live band Lachy Stewart: band leader/guitar, Andrew Hazzard: drums, Terry Million: piano and Cale Tanner: bass, also special guest vocalists Kaley Jones, Georgia Burnett and James Reid, will take a journey through a catalogue of non-stop hits as Thomas Armstrong-Robley pays homage to a selection of renowned singers, acclaimed songwriters and trailblazing bands from the last century.
​This brand new production celebrates masterpieces of the music industry and the ground-breaking artists who turned them  into timeless anthems. With his unique ability to recreate a large variety of vocal styles, Thomas joined by a live band led by Lachy and the special guest artists will recreate classics including "Saw Her Standing There", "Don't Stop Believing", "I'm Still Standing" and "Smoke on the Water" plus hits by ABBA, The Eagles, The Rolling Stones, Billy Joel and more.
'Time Less' will also feature tributes to fallen icons including Queen's Freddy Mercury and the undisputed king of rock n' roll, Elvis Presley. It is an ultimate playlist for music fans of any age and showcases chart-topping, platinum-selling acts whose music has audiences clapping their hands, dancing the night away and singing along from beginning to end.
Performance Dates:
Friday, 31 January 2020 @ 7:30 PM
Saturday, 1 February 2020 @ 2:00 PM
Saturday, 1 February 2020 @ 7:30 PM
Location: 
Theatre 102
102 Anzac Avenue, Redcliffe QLD 4020
Tickets: 
$22.50 Adults
$20.00 Concessions
$17.50 Children
$17.50 Members
$68.00 Family Pass
$60.00 Special Date Night Deal (includes 2 Adult Tickets + 1 Bottle of Wine)
Seating is cabaret style with 4, 5 or 6 seats to a table.
Tickets available from Redcliffe Musical Theatre's Website.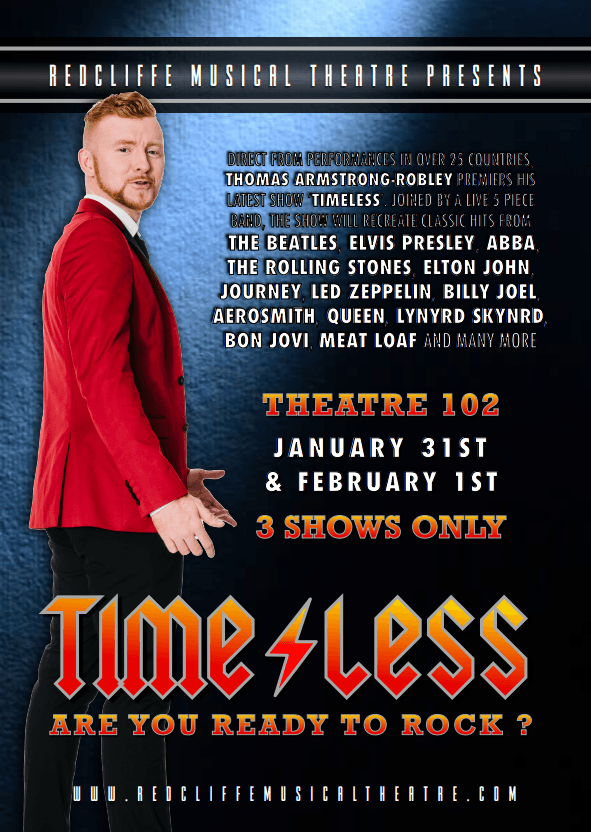 Time

January 31 (Friday) 7:30 pm - February 1 (Saturday) 7:30 pm AEST
Location

Theatre 102

102 Anzac Avenue