A new plaque has been unveiled at Melbourne's Princess Theatre to honour the stage show 'Harry Potter and the Cursed Child'.
The Lord Mayor of Melbourne, Sally Capp, unveiled the plaque at the Princess Theatre on Monday, honouring the show and further cementing its status as a premier attraction for visitors to the city.
It comes as the multi-award winning theatrical event celebrates its first birthday with a gala performance and extension of its record-breaking season.  In a statement, Capp shared her excitement over the production and the vibrancy its brought to Melbourne.
"We're thrilled and proud that Australian audiences have embraced 'Harry Potter and the Cursed Child'," she said.
"This record-breaking performance has brought a new vibrancy to the East End Theatre District and helped to generate restaurant and hotel bookings across Melbourne. Harry Potter and the Cursed Child is only showing in Melbourne so it's a fantastic drawcard for our city."
Due to the show's continuing demand, the sensational season has been extended for the seventh time, with tickets available up until Sunday, 13 September 2020.
In the past year, it's estimated a staggering 326,500 people have seen the show, well surpassing any previous record set by a stage play in the history of Australian theatre. Fifty-percent of audiences have travelled from overseas, interstate or regional Victoria, and visitors have been welcomed from over 42 countries around the globe. More than half of those travelling to attend the show have been first-time theatregoers.
'Harry Potter and the Cursed Child' enters its second year, with six new adult cast members taking to the stage for their first official performance. The lead cast includes Gareth Reeves as Harry Potter, Lucy Goleby as Ginny Potter, Sean Rees-Wemyss as Albus Potter, Paula Arundell as Hermione Granger, Michael Whalley as Ron Weasley, Manali Datar as Rose Granger-Weasley, Tom Wren as Draco Malfoy, and Nyx Calder as Scorpius Malfoy.
The Australian production officially opened back on Saturday, 23 February 2019, with a magical red-carpeted event. Melbourne became the third city worldwide to welcome the boy who lived to their stage, after London and New York City. The show will not perform in any other city in Australia.
Based on an original new story by J.K. Rowling, Jack Thorne and John Tiffany, 'Harry Potter and the Cursed Child' is a new play by Jack Thorne, directed by John Tiffany. It is essentially the eighth story in the Harry Potter series, telling the journey of Harry, Hermione and Ron's children.
It was always difficult being Harry Potter and it isn't much easier now that he is an overworked employee of the Ministry of Magic, a husband and father of three school-age children. While Harry grapples with a past that refuses to stay where it belongs, his youngest son Albus must struggle with the weight of a family legacy he never wanted. As past and present fuse ominously, both father and son learn the uncomfortable truth: sometimes, darkness comes from unexpected places.
'Harry Potter and the Cursed Child' is the first official story to be presented on stage. It is a two-part show, with both parts of the play intended to be seen in order on the same day (matinee and evening) or on two consecutive evenings.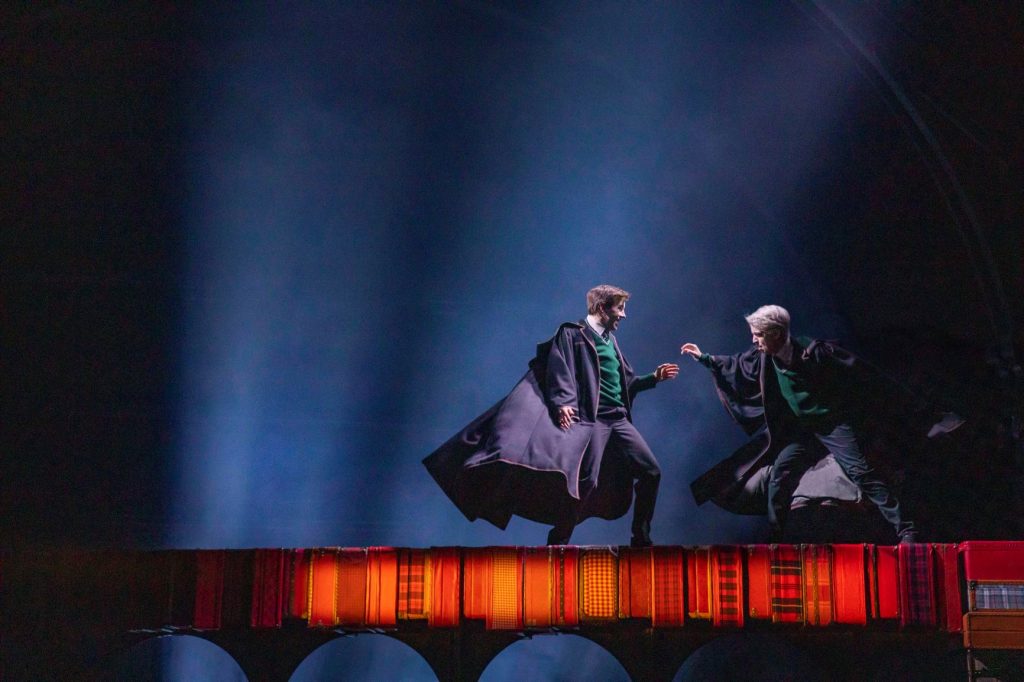 Ticket prices start from $65.00 and are available at Harry Potter the Play Website.
Production Photography by Evan Zimmerman for MurphyMade and Plaque Commemoration Photos sourced via Princess Theatre Melbourne.