'The 39 Steps' was elevating.
Marked as a Brisbane Arts Theatre's 'signature show', the popularity of 'The 39 Steps' is well-founded.
As the audience enters the 84-year-old theatre, they are greeted with a sense of warmth and intimacy. The theatre evokes an aesthetic of old friends meeting up to reminisce on fond memories. It is no wonder, therefore, that 'The 39 Steps' has returned to the Brisbane Arts Theatre with such enthusiasm. Audiences will sentimentally witness two old friends reconnecting, with the reunion set to delight and enthral all.
Based upon Alfred Hitchcock's seminal 1935 film, 'The 39 Steps' tells the story of a man, wrongly accused of murder, trying to clear his name while on the run. Considered fourth in the British Film Institute's 1999 list of Top 100 British Films of the 20th Century, 'The 39 Steps' has garnered recognition as one of Hitchcock's defining pre-Hollywood works. Orson Welles dubbed the film a "masterpiece". Its legacy has cemented 'The 39 Steps' as a charismatic spy thriller, as relevant today as it was when it premiered.
In terms of its stage presentation, 'The 39 Steps' was first adapted for the theatre by Patrick Barlow, premiering at the West Yorkshire Playhouse in June 2005. Over the past 15 years, the production has amassed successful runs in Canada, New Zealand, Australia, London's West End and New York's Broadway.
In adapting Hitchcock's film, Barlow astutely married the 'Master of Suspense's signature tension with his own comedic timing to create an eclectic, energised theatre piece. For Brisbane Arts Theatre, this marriage is carried through expertly by director Aaron Evans in his latest production. With allusions to vaudevillian pantomime throughout, Evans raises Barlow's script to a hilarious, timely new height of contemporary theatre.
The simple, yet versatile, set encapsulates the show's sense of mystery and anticipation. Actors double as stagehands throughout the performance, effectively correlating with the intimacy of the story. A personal favourite is a makeshift car in the early minutes of Act 2. Two chairs, crates and a prop steering wheel creatively present that sometimes 'less is more'.
This rhetoric is similarly emphasised through costuming. Costume Designer Kirily Jago draws upon minimalistic allusions to Scottish attire to effectively ramp up the production's humour. From overly long kilts to flapper dresses to a highly alluring handlebar moustache, Jago's costume choices resonate with the production's overall contrasting tone. 
Like all good thrillers, 'The 39 Steps' utilises nuanced lighting to build suspense and emotion. Paired with a stellar soundtrack helmed by sound designer Zoe Power, callbacks to its cinematic origin were aplenty. An early scene peppers 'Psycho's' iconic screeching violin melody throughout to hilarious effect. Similarly, several scene transitions, which can be laborious on audience attention at times, successfully draw audience interest through eclectic musical choices.        
All seven performers utilise the Brisbane Arts Theatre stage to compelling effect. Thorough consideration of space and perception is evident throughout Evans' blocking. Cinema again is drawn upon for inspiration, as several scenes allude to shifting angles and cuts. This is no better demonstration of this than during the Mister Memory's infectious routine. By placing two juxtaposing scenes to the left and centre of the stage, a nuanced illusion to the production's source material is drawn. This appears to be an overtly perceptive and successful choice by the creative team.
With a small ensemble cast, each performer has their respective moment to shine. Captained by Jesse Warren's effortlessly charming Richard Hannay, the chemistry onstage is organic. Several performers are tasked with playing multiple roles, with Adrian Carr and Emile Regano serving as unequivocal highlights. Warren and Emma Reynolds play off each other well, even if their romance feels rushed at times. Regardless, all players invest wholeheartedly to the material, further reiterating Brisbane Arts Theatre's affinity for it. 
It is not surprising that 'The 39 Steps' is considered a staple of the Brisbane Arts Theatre. With numerous references to its cinematic origin, as well as ample moments of humour, the show is nothing less than a delight. Audiences will likely come for Hitchcockian suspense but will stay for the belly laughs. Brisbane Arts Theatre is certainly stepping into its 2020 season with its best foot forward.  
'The 39 Steps' performs until Saturday, 21 March 2020 at Brisbane Arts Theatre. For more information, or to purchase tickets, visit Brisbane Arts Theatre's website.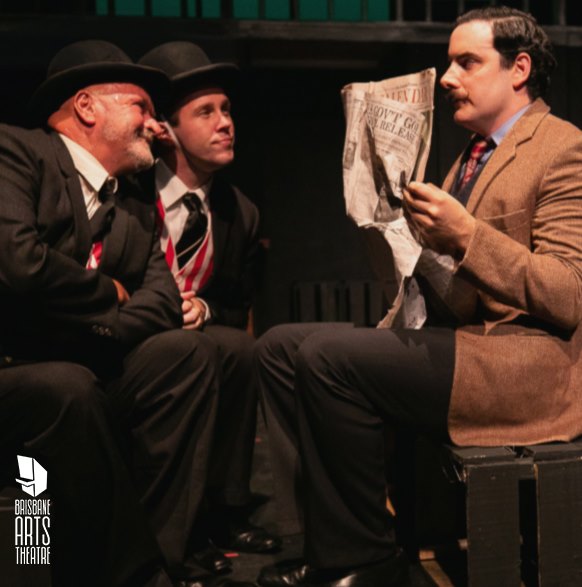 Disclaimer: Cast / Production Members working on this show also work for Theatre Haus, but rest assured, we always take steps to ensure our reviews maintain their integrity and are free from bias.