'How to Survive a Zombie Apocalypse'  was deadpan. 
Despite the spooky, dim-lit setting of St Andrew's Uniting Church in Brisbane's CBD, the life-sized zombie prop greeting audience members was the scariest thing about Dark Stories' interactive theatre production, 'How to Survive a Zombie Apocalypse' — an amusing comedic presentation with a generous helping of audience involvement.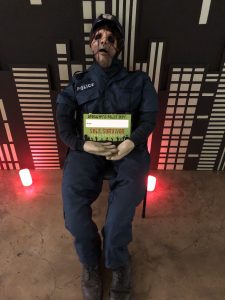 A fake plant wall as the background, a string of red lantern lights, and a few panels of fluorescent lighting overhead set the scene for the survival seminar. Delivered lecture-style at a podium, the production was led by David Dark as Dr Dale, a likable and sometimes exasperated character who tried to keep his team on track while educating the audience on all things zombie-related. Dark also appeared to act as sound engineer, hitting play on his phone for the brief musical interlude, when the crowd learned which dance moves should be used to kill the undead. 
The main plot device of the show involved Dr Dale and team asking the crowd a series of questions to determine who would live and who would die in the event of the impending apocalypse, with a Q&A, group meditation and flashcard demonstrations along the way. 
Dr Dale's team included lab coat-clad Emily McKendry as "science expert" Judy O'Dea, who gave a hilariously convincing performance as a severe and dedicated, if somewhat sinister, doctor. Her over-the-top dinosaur impression was particularly hilarious (yes; there were dinosaurs, vampires, pirates, and even a few Popes alongside the zombies).
Garth Remington as "survival expert" Donald Straite earned plenty of laughs with his double entendres and tendency to misunderstand instructions. Remington also stood out for his comedic abilities during his interactions with the audience, answering impromptu questions quickly and cleverly.  
Rounding out the quartet was Claudia Thatcher as Dr Dale's niece, Kristen, who bore the brunt of Judy's zombie-related experiments. Thatcher did an excellent job of playing the vacant, ditzy girl. Her commitment to a screaming outburst during the "guided meditation" skit was a particular comedic highlight.
The physical aspects of the comedy, seminar gags and inventive blocking (especially when the characters spread out, then switched spots to deliver intricately-timed lines as a group) were very well-executed, and covered for the few times the actors appeared to stumble over lines or momentarily lose their pace. 
If you're looking for an evening of deadpan delivery and fun facts rather than a night of horror and hunting, then 'How to Survive a Zombie Apocalypse' is for you. 
The Dark Stories group also runs True Crime Tours, Murder Mystery parties and theatre shows in Brisbane, Maitland, Newcastle, and Sydney.
'How to Survive a Zombie Apocalypse' performed 24 to 26 June 2021 at St Andrew's Uniting Church in Brisbane, presented by Dark Stories in special arrangement with Funcast Ltd. For more information, visit the Dark Stories website here.