'Kitchen Diva' was wicked. 
The third offering in 2021 from Birkdale-based MATES Theatre Genesis is a deftly funny take on Norman Price's dark and witty play 'Kitchen Diva'. Presented at the Birkdale School of Arts Hall, this production features a strong cast, a sizzling plot and some very entertaining show tunes.
'Kitchen Diva' was a La Boite Theatre commission in 2005, with a production in the Roundhouse Theatre in 2008 starring Ron Kelly. It's a weird and macabre tale of a sparkly, slightly horny ghost who lives in a kitchen pantry, who regularly (and randomly) belts out a song from her RSL setlist, stirred together with a pinch of childhood trauma, psychopathic tendencies, a precious pair of dentures and – who could forget – murder. Joe, played by Scott Fulton, is struggling with feelings that the women in his life have repressed him and has allowed this to boil inside him for too long. Dinah the horny ghost, played by Deirdre Grace, is Joe's dead mother and only wants what's best for her dear son (or is it what's best for her?). Fantastic tension swells when Joe's old lover Meagan, played by Silvana Siliato, visits for dinner and immediately makes Dinah see red at such opposition – mother knows best, after all! A fair amount of blood, sweat, tears and Johnny Cash later, we are served a slice of discontent and frustration with our pasts, topped with a furious need to control one's narrative and future. It's unnerving, confronting and wickedly humorous.
Technically, the show was simple yet effective. Lighting design by B'Elanna Hill delivered some powerful effects to highlight the character's emotions, such as a dangerous red wash to accent and foreshadow Joe's inner turmoil, and a spotlight for Dinah whenever she'd hijack the proceedings. This was coupled with disco ball-like reflections off of her dress, making these moments even funnier, but also tender and dreamy in more serious songs. Special mention to the pantry effects whenever Dinah emerged or exited, like a flashing, supernatural portal. It made the visuals just that bit extra engaging.
A fantastic layered and detailed set by Ann Leung transported us to a hot suburban Australian kitchen; the clutter of pots, utensils and cook books, ceramics and tea towels, a basic metal table. Using real food also added a charm and authenticity to the show, such as wiping the butter off the kitchen knife.
Diana Gogulski's direction turned the dial up on the absurd and comedic tones of Price's script, which seemed appropriate for community audiences, and gave what is a darkly complex story a broader appeal with hilarity and wit. Just a touch faster pacing and a clearer unravelling of Joe to his messy end state would have been the cherry on top.
Now to the well chosen and balanced cast: Deidre Grace as Dinah was hard to take your eyes away from and truly was the standout. As well as her awfully funny and quirky characterisation, she also was able to sing brilliantly, with musical direction by Kathryn Ryan. Scott Fulton as the calculating and often menacing Joe made us sit up, pay attention and watch our backs with his sarcastic and deadpan performance. Silvana Siliato as Meagan gave some of the more heartfelt and devastating moments in the play, and made us invested in her plight. Her gentle tone was also a welcome change from Grace and Fulton's snappy dynamic.
'Kitchen Diva' brings together an excellent cast with great visuals and some hilarious moments. This is quite an enjoyable night at the theatre, but be prepared for lunacy. And gore.
'Kitchen Diva' performs until Saturday, 10 July, 2021 at Birkdale School of Arts Hall. For more information visit the Mates Theatre Group website.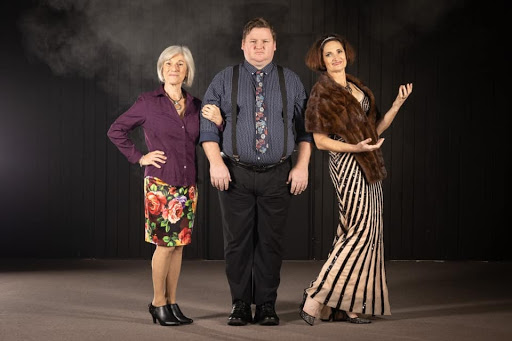 Photos by Images by Anderson.