Entries are now open for one of the most expansive opportunities for Australian playwrights, the Queensland Premier's Drama Award 2022–23.
Since 2002, Queensland Theatre, in partnership with the Queensland Government, has been inviting playwrights to put a new Australian work on its stage through this unique competition which culminates in a world premiere season of the winning entry.
Every two years the Queensland Premier's Drama Award discovers, develops and produces outstanding Australian plays. The award recognises excellence in playwriting and is open to writers across Australia with stories that will connect with Queensland audiences today.
Thanks to new sponsor Griffith University, the winner of the Queensland Premier's Drama Award 2022–23 will receive a $30,000 cash prize. The winner will also be commissioned by Queensland Theatre to develop their script ready for production. The award continues to guarantee the winning play a season on the Queensland Theatre stage — a unique and highly sought-after opportunity for Australian playwrights.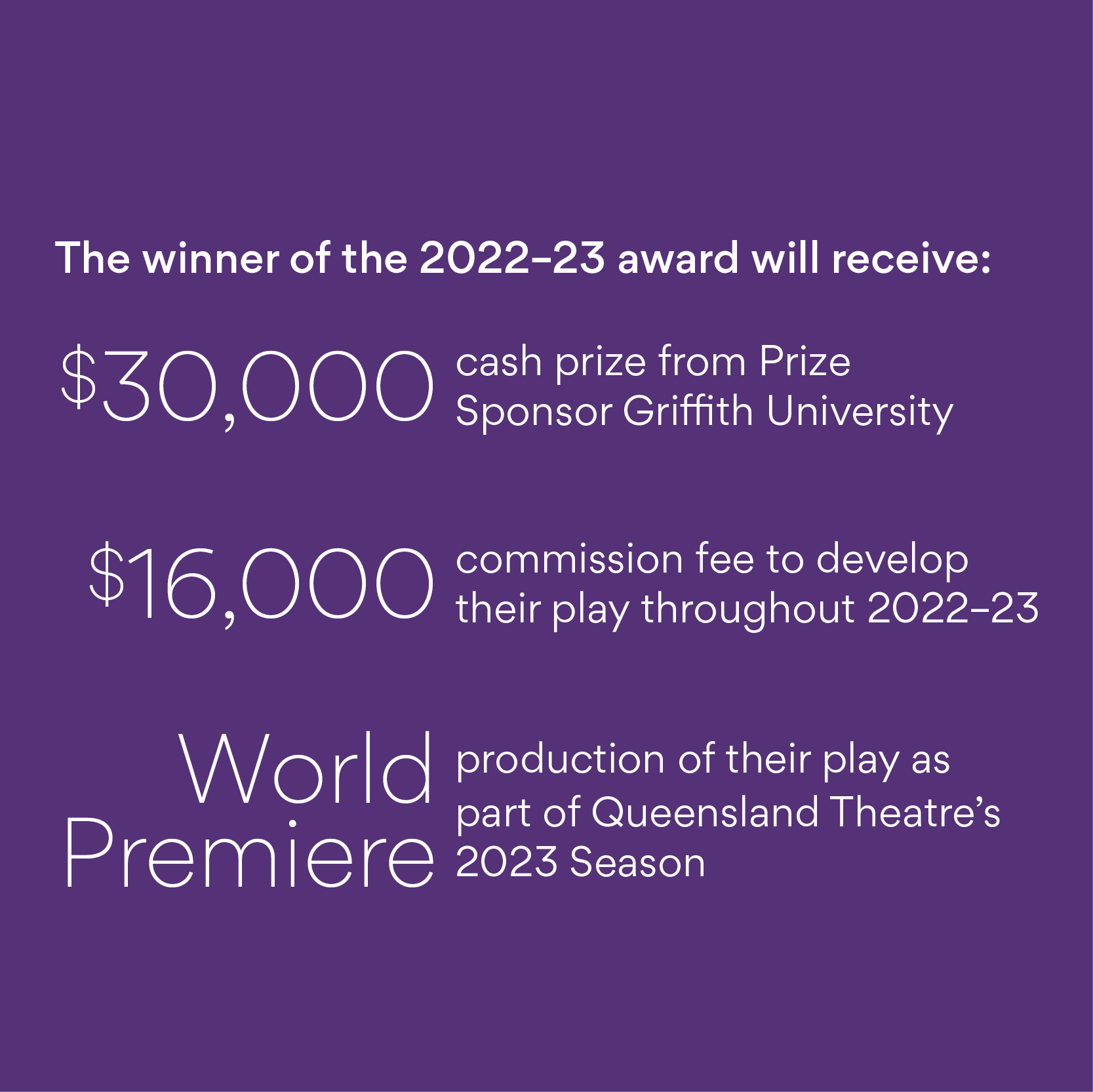 Queensland Theatre Artistic Director Lee Lewis spoke of this opportunity for playwrights.
"The Queensland Premier's Drama Award is now the most significant playwriting prize in Australia," said Lewis.
"We hope that the scale of the award — both with the cash prize and the commitment to production — signals to the playwrights of this country, the important value this state places on Australian stories.
"We want to make sure that playwrights around the country are creating their best work for Queensland audiences. As a Company, we are inspired by the Queensland Government's ongoing belief in culture as essential for building the spirit of this state, and we are thrilled to partner with them and with Griffith University to put playwriting at the heart of our shared vision."
Premier Annastacia Palaszczuk said the awards have been celebrating our storytellers for two decades.
"These awards showcase some of the most exciting voices in contemporary Australian playwriting," the Premier said.
"By partnering with Queensland Theatre, investing in artists, and taking their vision from the page to the stage, the Queensland Government is contributing to a thriving, diverse and sustainable arts sector in our state.
"Investing in the arts is a vital part of Queensland's Economic Recovery Plan and our continued support of our artists through the Queensland Premier's Drama Award will allow eager audiences to connect with new, original stories now and in the years ahead."
Pro-Vice-Chancellor (Arts, Education and Law) Professor Scott Harrison said that Griffith University is proud to support the Queensland Premier's Drama Award 2022–23 and its development of exciting works created by Australian playwrights.
"This prize is an investment in new Australian work and Queensland's vibrant creative sector," said Harrison.
Theatre has the power to transform, transport and inspire — and we are delighted to support the next generation of storytellers."
Queensland Theatre encourages writers of all backgrounds and lived experiences to enter their unproduced scripts into the 2022–23 award.
The deadline for submissions is Friday 3 September 2021, with finalists to be announced in January 2022. The winning entry will be revealed in April 2022.
Entry information is available at Queensland Theatre's website.
---
Previous winners:
2020–21 Steve Pirie for 'Return to the Dirt' – which premieres 16 Oct to 6 Nov 2021
2018–19 David Megarrity for 'The Holidays'
2016–17 Michele Lee for 'Rice'
2014–15 Daniel Evans for ' Oedipus Doesn't Live Here Anymore'
2012–13 Maxine Mellor for 'Trollop'
2010–11 Marcel Dorney for 'Fractions'
2008–09 Richard Jordan for '25 Down'
2006–07 David Brown for 'The Estimator'
2004–05 Adam Grossetti for 'Mano Nera'
2002–03 Sven Swenson for 'Road to the She-Devil's Salon'
Media Release Supplied.