'Jasper in Deadland' was adventurous.
As soon as the theatre doors opened at Phoenix Ensemble in Beenleigh, the audience was transported into a pop-rock technicolour dreamscape. The company has been producing works since 1993 and is bringing 'Jasper in Deadland' to the Australian stage for its amateur premiere.
Written by Ryan Scott Oliver and Hunter Foster, 'Jasper in Deadland' is a very new musical, first performed off-broadway in 2014. The story follows Jasper, a typical teenage boy having a hard time adjusting to his parent's divorce and dealing with personal demons, such as his inability to express his love for Agnes. That is, until he suspects that she may have killed herself by jumping into a lake. Jasper ventures down into the underworld, known as Deadland, where he confronts demons and Gods from a range of mythical canons. One such being is the nefarious Mr Lethe, a business tycoon selling a corrupted water supply to the citizens of Deadland, humans who have passed on and forgotten their lives on Earth.
Taking generous creative liberty in adapting the myth from Egyptian, Roman, Greek and Norse culture, 'Jasper in Deadland' is a smorgasbord of ancient religions and presents an exciting modern perspective on various Gods and Goddesses. While at times the plot was muddy and overly fast-paced – the dialogue being the main letdown of the piece – Phoenix Ensemble's Australian premiere still packs a punch and delivers a stirring message about what it means to be alive.
The visual and technical components of 'Jasper in Deadland' were phenomenal, particularly the set and costume design by Justin Tubb-Hearne. Each character had an incredibly well-thought-out and intricate aesthetic which carried through their costuming and prop pieces. The use of a neon colour palette in the ensemble costumes glowed under the stage lights and gave Deadland an other-worldly appearance – vastly unlike typical depictions of the underworld. The gothic-style costume of the antagonist, Mr Lethe, and the design of his lair made for a visual contrast with the technicolour of Deadland and gave him an imposing air of villainy. The design of the three-headed dog, Cerberus, was haunting and allowed the trio of performers within the costume room to develop their own personalities.
Lighting design by Liam Gilliand was similarly creative and complemented the more intimate moments of the show. In particular, Gilliand created a spectacular light display at the conclusion of Act I. Sound design by Jacob Cash was equally impressive.
Directed by Justin Tubb-Hearne, this ambitious production was a testament to his direction of both the cast and creative teams. It is clear that the entire company was passionate about this project and their hard work was inspiring to see.
The musical direction by Haley Marsh was brilliant. Vocal performances were, across the board, of staggeringly high quality. The soaring voice of Sophia Dimopoulous as the tragic lover Eurydice, and the dirty rock-and-roll quality of Laura Gordon as Ammut, were particular standouts. The live band, also conducted by Haley Marsh were dynamic and skilled, bringing a healthy hit of rock to some of the show's bigger numbers, such as 'Living Dead'.
Choreography by Isabelle Quayle was unique and audaciously modern, working in fantastic harmony with the pop-rock tunes of the show.
In the titular role of Jasper, Elliot Gough barely left the stage throughout the show but sustained outstanding energy and vocal performance. He moved from delivering emotionally charged songs like 'Stroke by Stroke' to speaking Portuguese when the character forgot who he was, to sacrificing himself for his love. Agnes, played by Mikeal Bobart, bared her soul in electrifying numbers like 'Something for Real'. Tristan Ham portrayed Mr Lethe, the antagonist, with a sense of whimsy and delight in being evil; his number 'Awful People' was a cabaret-style romp.
As an audience member, the most exciting thing to see was the cast members having fun, and the ensemble of 'Jasper in Deadland' was enjoying their show in bucketloads. They delivered a powerful and rousing vocal performance and played a myriad of characters throughout the show. Rebecca Kenny-Sumiga was the hilarious standout as Beatrix, the muse Dante of Dante's Inferno fame, and Little Lu, a hillbilly factory manager. Pluto and Persephone, portrayed by Shane Webb and Jessica Ham, had a laboratory's worth of chemistry and gave a distinctly contemporary quality to these ancient figures. AJ Betts and Hayley Jones, and Norse guardians Loki and Hel, were loveable, bumbling fools and gave fantastic vocal performances to boot. Overall, the cast had spirited comedic timing.
Phoenix Ensemble's 'Jasper in Deadland' is an exciting new musical, and while the text itself has some flaws, the company's rendition is not to be missed. This show brings something new and fresh to the Brisbane musical theatre scene and is a lively depiction of death, mythology and love.
'Jasper in Deadland' performs until Saturday, 20 November 2021 at Phoenix Ensemble. For more information visit Phoenix Ensemble's website.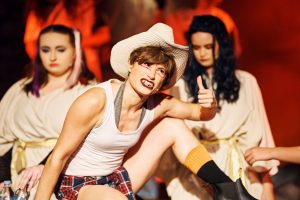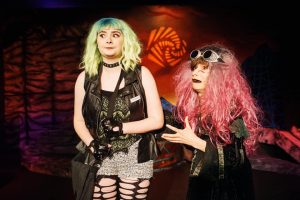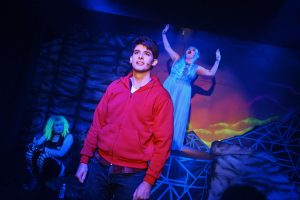 Photography by Ken Santos and Justin Tubb-Hearne.