'tick, tick… BOOM!' was factionalised.
The life of an artist is the unspoken basis of almost every creative endeavour of worth. A struggle to make a living, the constant pressure of outsiders and family, an undervaluing of the arts from society and the ambiguity of success; all elements of the concept. As an idea for a musical, the life of an artist has merit, and 'tick, tick… BOOM!' tries to tackle the challenge.
With the collective power of Southeast Queensland's best performers, director, choreographer, and musical director, THAT Production Company's rendition had quality aspects, but was at times factionalised, with opportunity for more unity and chemistry.
'tick, tick… BOOM!' is an autobiographical piece by and about Jonathan Larson – creator of 'RENT'. The prequel includes some attempts to recreate the magical moments of an historic musical, intertwined with a far simpler plot and story arc. As an Off-Broadway production it scored an Outer Critics Circle Award and became an instant cult classic, particularly for New York artists who formed part of the arts community in the '80s and '90s.
Perhaps better suited to a more intimate venue, the show is primarily one of realism, albeit with song and dance. Contrasting this realism, set design was minimalist and abstract, with a few simple seats, a piano, and a project backdrop. In this case, strategic directing and clever performances encouraged the audience to use their imagination in the creation of various settings and props, and was mostly successful.
Unfortunately, the obtrusiveness of Ipswich Civic Centre's proscenium arch and generally large size of the venue was not the best fit for the small cast size and the realism elements of the musical. At times, the emotions and rawness of the performances were lost.
Challenges of the script and venue aside, this is a team of exceptional skill and talent. Musical Director Luke Volker led a small band, and beautifully conquered a diverse score of music genres. Director Timothy Wynn found moments of deeper meaning, with the highlight of his craftsmanship displayed when snow fell upon Jon at his piano in one of the later scenes. Choreography by Peter Wood incorporated a child-like innocence and quirky edge to dance sequences, which managed to integrate elements of both the realism of the show and classic music theatre jazz techniques.
The choreographer, director and musical director were all effective in developing their visions for the movement, acting and sound. There were moments that required a little more cohesion; while the music felt suited to a world class concert, the blocking was a blend of raw depictions and caricatures of reality, and the choreography found its place somewhere in between.
Chris White opted for a hyper-theatrical depiction of Jon. With a Greatest-Showman like persona and larger-than-life scene work, he led the show like a grand musical. While it would have been interesting to see a more awkward and reclusive character, this did bring an intriguing interpretation to the role.
Stephanie Long and Josh Whitten were a dynamic duo, each performing an extensive number of characters with impeccable skill. They were able to adjust body, walk and speech style to reflect a change in persona. Minimal costuming elements, such as overcoats and glasses, assisted, but at the root of the distinctive characters was the talent of Long and Whitten. There were moments when the three performers connected and the relationships grew; however, the chemistry may have been hampered by opening night nerves.
With a collection of some of the region's top creatives, THAT Production Company's rendition of 'tick, tick… BOOM!' has some quality elements and high quality artistry.
'tick, tick… BOOM!' performed until October 30th at Ipswich Civic Centre. For more information visit THAT Production Company's website.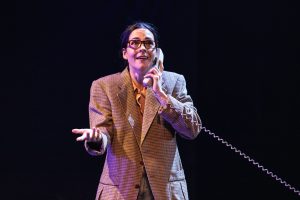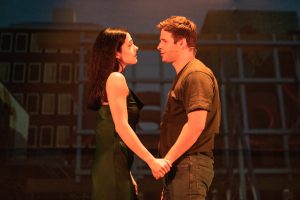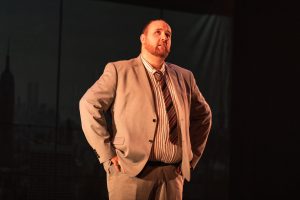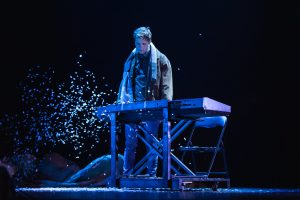 Photography sourced from That Production Company's Facebook page.