'COSI' was uninhibited.
Tugun Theatre Company's latest production is the iconic Australian play 'Cosi'. The large stage of the Tugun Village Community Centre fit the show well and the full audience of the matinee were treated to a show that did not disappoint.
'Cosi' is set in Australia amidst the backdrop of the Vietnam War. Young university graduate Lewis gets a job directing a play with patients of a mental hospital. His theatre is a burnt-out ramshackle building; his misfit cast includes a pyromaniac and a heroin addict; and the play they choose to stage is Mozart's opera 'Cosi Fan Tutte', despite the fact that none of them can sing opera or speak Italian. Somehow, Lewis manages to guide them through the many ups and downs of rehearsals and collectively they stage the performance of a lifetime.
Lighting and sound design by Charlie Graham worked harmoniously with the action on stage. The lighting changes were subtle but impactful, especially the transition to red lighting when pyromaniac Doug took centre stage for his monologue. Blackouts to indicate scene changes were tight and audiences were never left in the dark for a second longer than necessary.
The set was wonderful. As soon as the curtains parted, audiences were invited into the burnt-out remains of a dilapidated theatre. Black burnt windows and charred remnants of curtains set against a brick wall conjured images of a theatre that was once grand but had fallen on hard times, much like the inhabitants themselves. Costuming was dynamic and lively and each characters' personality was displayed through their clothing. The outfits they wore for the performance of their show were spectacular and daggy all at once.
Kate McNair had her work cut out for her as director and she did not disappoint. Handling such dynamic characters and their quirks while still maintaining cohesion and order on stage is not easy, but McNair excelled. There was a lot of movement on stage but at no time were actors obscured or was focus pulled in the wrong way. Organised chaos at its finest. It was evident McNair had worked with the actors on their characterisation, as each performer gave their character and associated mental health issues the dignity and respect they deserved. Scene changes were fast and the pace of the show was not impeded by any transitions of set or props. It would have been nice if the fire scenes incorporated smoke or crackling noises to more effectively portray the danger and urgency of those scenes.
Elliott Hawkins' portrayal of naïve Lewis was charming. He did well to hold his own against such colourful characters and never got lost in the hubbub of the madness. His relaxed persona brought a calm to the show that was much needed.
Chris Hawkins played the manic-depressive Roy expertly. His characterisation was hilarious and strikingly realistic. It was easy to forget that he was acting, as he wholly embodied the character of Roy. At times, the pitch and speed of his lines made it difficult to understand what he was saying, but in a way that added to his flamboyant character.
Sam Young's portrayal of Doug was disturbingly realistic. He was convincingly lecherous and pyromaniacal and it was easy to see why he was locked up. Young's physical characterisation was spot on and his drawing skills must also be commended.
Stephen Nash embodied silent Henry wholeheartedly. From his paralysed arm to his sad little shuffle, he pulled on the heartstrings. Though Nash did not have many lines, he contributed as much to the play as the other actors and it was evident when he was missing from scenes. Even without a large role, Nash found a way to make an impact.
Amy-Louise Anderson's portrayal of the ever-hungry Cherry was wonderful. She took command of the character and made it her own. Whether cuddling up to Lewis or hurling abuse at Doug, Anderson balanced Cherry's innocent, sweet side and streak of insanity perfectly.
Tracy Carroll came to life as the annoying yet polite Ruth. Her ability to drive everyone crazy with Ruth's incessant questioning, but then make them instantly feel bad for yelling at her, was realistic and natural.
Samantha McClurg's portrayal of Lucy, arguably the calmest patient, was earnest. Her characterisation was open and unassuming and it is easy to see why Lewis would fall for her. 
The supporting actors all embodied their characters well and at no times did it feel like anyone was acting. Though the characters are larger than life and off the wall, the show was never at risk of becoming farcical. Everyone portrayed their character as though they were real humans. This ensured the play remained a charming and identifiable story of acceptance and personal growth.
Tugun Theatre Company's production of 'Cosi' was hilarious, heartbreaking and heart-warming. A quality piece of theatre showcasing a flawless portrayal of some very flawed individuals.
'Cosi' performs until 27 November at Tugun Village Community Centre. For more information visit the Tugun Theatre Company's website.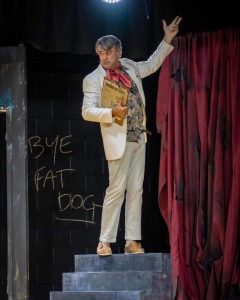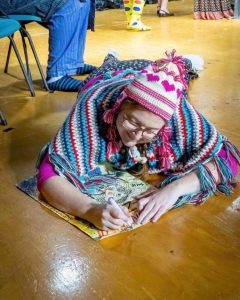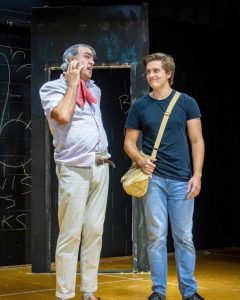 Photos sources from Tugun Theatre Company's Facebook page.