'The No Bang Theory' was mind-blowing.
'The No Bang Theory' was a blast of a show, performed inside the quaint Waterloo Bay Leisure Centre, one of the many venues for the Wynnum Fringe Festival. Oliver Hetherington-Page, writer and performer of 'The No Bang Theory', created an entertaining cabaret, jam-packed with musical theatre references and authentic stories about his life for the audience to enjoy.
Originally premiering as part of the Undercover Artist Festival, 'The No Bang Theory' was featured at the Wynnum Fringe Festival, and will also be heading to the Adelaide Fringe. 'The No Bang Theory' was created to fight against the many stereotypes in the media surrounding autism and shows more than the often cherry-picked traits that are shown in these representations. Early into the show, the true meaning of the title is revealed; Oliver is a proud virgin. The cabaret shows his life as an undiagnosed kid, his struggles and challenges from friendships, depression, school, theatre, and love. The show is sprinkled with musical references and parodies.
'The No Bang Theory' used simple but effective lighting choices to elevate the show. The Waterloo Bay Leisure Centre was rigged with many lighting options which lighting and sound designer, Freddy Komp, used to their advantage. During most of the show, the stage was lit with a standard white wash and a slight tinge of red. During musical numbers, depending on the mood, the stage was engulfed in a wash of pink, red or blue, and decorated with automated moving lights with patterned lenses. Hetherington-Page also had a live accompanist on stage, Tim Forrester, who brought the songs to life.
The set for 'The No Bang Theory' was minimal. Two easel stands were placed centre stage with large placards, one with the show's title and the other with placards that were alternated depending on the subject matter. On stage left, Forrester sat at his piano, and on stage right, was a clothes rack that contained all of Hetherington-Page's jackets that were interchanged throughout the show. A chair was also used throughout the show, and an inflatable doll was the show's highlight (without giving too much away). Everything on stage was easily accessible to Hetherington-Page and aided in smooth transitions between each topic.
With such a fun and witty script, Director Lewis Jones assisted in fulfilling Hetherington-Page's goal. Sarah Stanke choreographed the show, creating some absurdly entertaining moments.
Hetherington-Page was the performer and mastermind behind 'The No Bang Theory' and told a truthful and hilarious story that invited the audiences into his mind. Parody songs, musical references, and playful storytelling brought to light the "ugly" and the topics that many people may not know or talk about. Hetherington-Page has effectively used his platform to fight stereotypes, educate audiences, and bring fun and laughter to the stage.
'The No Bang Theory' performed for one show on Sunday, 21 November 2021 at the Wynnum Fringe Festival.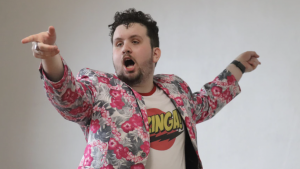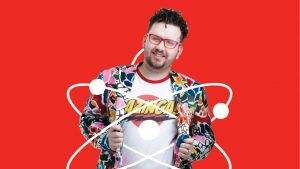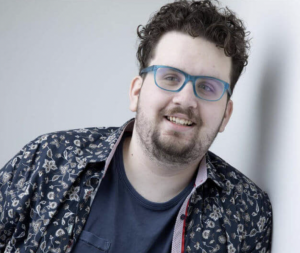 Photos supplied by Oliver Hetherington-Page