The Gateway to the Mornington Peninsula is set to become a lot more magical this July as a new wizard musical apparatus into Frankston, courtesy of Salty Theatre. 
'Voldemort and the Teenage Hogwarts Musical Parody' is an unofficial musical production detailing the early student life of every Potterhead's favourite Dark Lord. Before He Who Must Not Be Named was dealing out unforgivable curses and creating Horcruxes, he was Tom Riddle, your run-of-the-mill awkward teenager. 
Originally penned by Los Angeles-based comedians Chris Grace ('This is Us' and 'Superstore') and Zach Reino ('Crazy Ex-Girlfriend' and 'AP Bio'), 'Voldemort and the Teenage Hogwarts Musical Parody' is a melodic love letter to the wizarding world in all its forms – particularly the darker arts.
Having enjoyed success at two seasons of the Edinburgh Fringe Festival, and sold-out performances at London's King's Head and Melbourne, 'Voldemort and the Teenage Hogwarts Musical Parody' is now bound to excite audiences at the George Jenkins Theatre like a Weasley Wildfire Whiz-bang.
Since its creation in January 2019, Salty Theatre, a female-led independent musical theatre company, has been bringing an array of off-Broadway, fringe, and rarely before-seen productions to the greater Melbourne area to considerable acclaim. 
This 2022 is set to be a particularly busy season for Salty Theatre, with three productions in the pipeline – July's 'Voldemort and the Teenage Hogwarts Musical Parody'; September's 'Top Gun: The Musical' in Ballarat; and November's 'Stranger Sings! The Parody Musical' in Melbourne.
In the lead-up to their first show of the 'Netflix and Chill' season, 'Voldemort and the Teenage Hogwarts Musical Parody', Salty Theatre founders Ashley Taylor Tickell and Sarahlouise Younger spoke to Theatre Haus about what audiences – muggles and magic folk alike – are to expect.
"Voldemort is an absolute romp and rock and roll love letter to the world of Harry Potter and explores Tom Riddle's past as he learns the ways of love, proper snake maintenance and the Unforgivable Curses," Taylor Tickell and Younger note.
"[The show] delves into Voldemort's origin story. It takes us back in time to creatively (and totally unofficially) explore how Voldemort became the Dark Lord that we all love to loathe."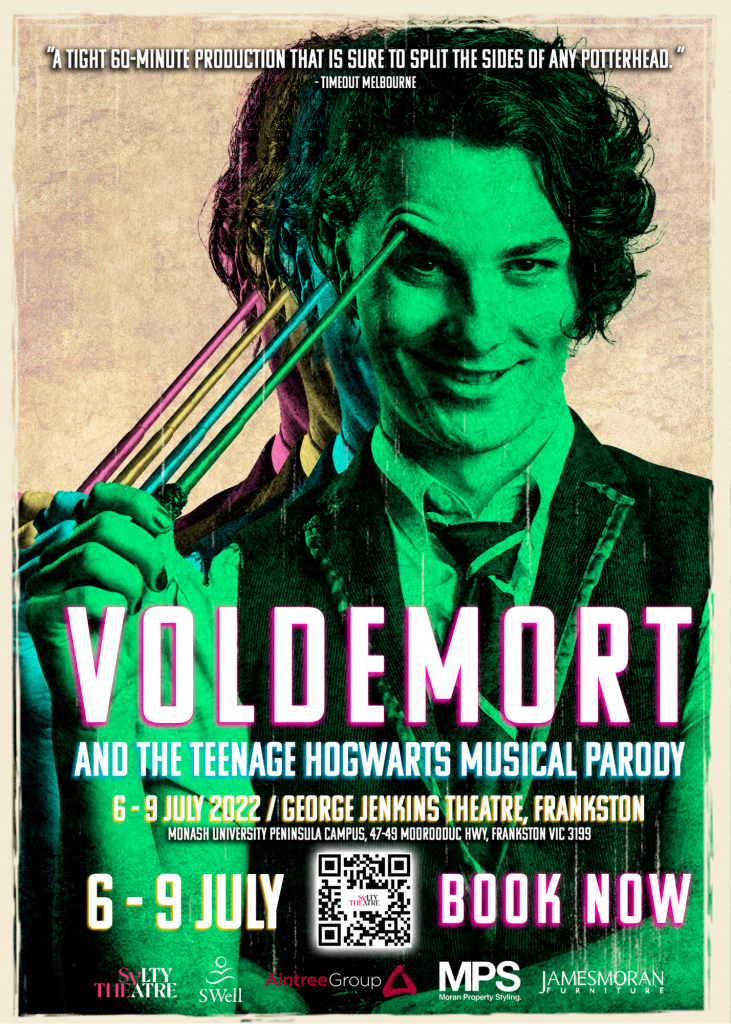 In focusing on the formative years of the infamous Dark Lord, 'Voldemort and the Teenage Hogwarts Musical Parody' presents a darker, edgier take on the acclaimed magical world with music reminiscent of 1990s grunge. 
"Teen angst… hormones and young love fill the magical halls," Taylor Tickell and Younger explain. "Along with a few familiar and much-loved characters as they sing about 'Cutting Your Soul', 'Care of Magical Creatures', and 'Love That Must Not Be Named'."
Taylor Tickell and Younger go on to tease a murder mystery element in the show. "Who doesn't love a Harry Potter Whodunnit?" 
While Potter fans are likely to gravitate to the magic and mystery of the production, Taylor Tickell and Younger explain that audiences do not need to be well-versed in Harry Potter lore to enjoy it.
"The pop/rock score is hugely catchy, the cast are absolute legends and the sense of '90s nostalgia mixed with a musical theatre murder mystery will keep die-hard fans and Potter newbies in stitches," said Taylor Tickell and Younger.
"We really feel that Voldemort offers all of the diehard fans a glorious taste of the Wizarding World they adore but in a more adult way. It's a ridiculous Voldemort origin story that blends everything fans embrace with humour that wizarding fans and muggles alike can relate to."
The driving force of the show according to Taylor Tickell and Younger is its ability to evoke a sense of nostalgia, belonging, and acceptance in its audience.
"The show really touches on the struggles many of us experienced growing up. It speaks to the misfits, the loners, the kids we misunderstood." 
"While it's a parody musical (again, unofficial and unrelated to the actual franchise), it really takes everything fans love about Harry Potter and blends it with our own experiences and sense of nostalgia. And turns it into a big, old, ridiculous, rock and roll romp that hits you in the feels and the funny bone!"
Audiences, whether witch or wizard, squib or muggle, are likely to find enjoyment in 'Voldemort and the Teenage Hogwarts Musical Parody'. Brush off your Nimbus 2000 and fly in to see it this July.
'Voldemort and The Teenage Hogwarts' is not authorised, sanctioned, licensed or endorsed by J.K. Rowling, Warner Bros. or any person or company associated with the Harry Potter books, films or play. The writers and originating producers together with Salty Theatre will be donating the music track royalties to Switchboard Victoria.
'Voldemort and the Teenage Hogwarts Musical Parody' performs at Frankston's George Jenkins Theatre from 6 – 9 July 2022. Tickets can be purchased from the theatre's website. For more information about this or other shows a part of Salty Theatre's 'Netflix and Chill' season, visit their website.