Licencing a play or musical is one of the first steps in producing – and yikes can it get costly! For big name Broadway musicals the kitty will need to be in the thousands, with an increase for every performance and seat you add to the mix.
But not all titles are like this – in fact, there are some great plays and musicals, with familiar names, that you can licence for around the $100 per performance mark.
We've pulled together a list of 10 familiar shows with a short blurb and link to the licencing information. Hey, maybe you might find a 2023 pick to get you started.
---

10. Madeline (Joins the Circus)
No – not Matilda – Madeline, the other big hit of the 90s. She's the cheeky but brave French girl in two straight lines. There was a cartoon television series, a movie and now a musical. This rendition is a children's show (of course) but includes some neat little numbers and an affordable licencing fee. Find out more from Children's Theatre

9. Pippi Longstocking
Staying in the theme of youth and strong female leads, Pippi Longstocking is the quirky "freckle-faced redhead girl you want to know…" Again with a cartoon television series and endearing films from the 40s, 60s and 90s, Longstocking is a familiar face to many generations of audience members. Find out more from Plays for New Audiences

8.  Around the World in 80 Days
Join fearless adventurer Phileas Fogg and his faithful manservant as they race to circle the globe in an unheard-of 80 days! Danger, romance, and comic surprises abound in this whirlwind of a show. A novel of 1872, a TV series from 2021 and many other film renditions, now a play. Find out more from Dramatic Publishing

7. Tinker Bell
When all the fairies in Neverland start dying, Tinker Bell comes to London to find a friend. There she meets a young boy named Peter Pan. When Tink takes Peter to Neverland, all sorts of wonderful and amazing things happen: flowers grow, animals appear and pirates arrive. Find out more from Dramatic Publishing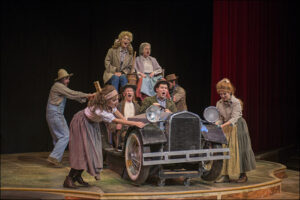 6. The Beverly Hillbillies The Musical
When the Clampett family unexpectedly strikes it rich, they move from the Ozarks to Beverly Hills. Suddenly 17-year-old Elly May, a beautiful but naïve tomboy, is thrown into a world of debutante balls, polo matches and people mainly concerned with their place in society. Find out more from Dramatic Publishing

5. Dear Albert Einstein (Musical)
Who needs Dear Evan Hansen when you have Dear Albert Einstein. It's 1954, and 12-year-old Susan is a star student who reinvents herself as a "cool kid" at her school. It won't be easy … especially when an imaginary Albert Einstein starts following her around! Find out more from Dramatic Publishing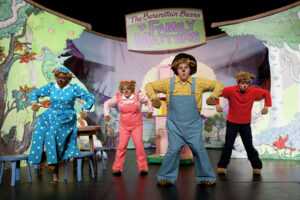 4. The Berenstain Bears on Stage
No, this isn't part of the Mandela Effect. The "world's foremost expert on the Berenstain Bears," guitar-strumming Cowboy Joe, is the show's stage director—introducing and commenting on the play's five episodes which are based on five classic books. Find out more from Dramatic Publishing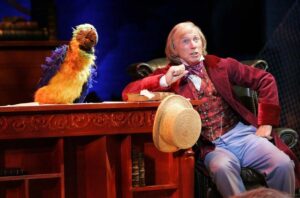 3. The Adventures of Doctor Dolittle
Dr. Dolittle is a very special doctor with a deep understanding and love of animals finds he is able to speak with them. He travels to Africa to save the monkeys from a terrible plague. With the cooperation of all the animals of Africa, the doctor creates a solution that in the end protects the animals. Find out more from Dramatic Publishing

2. Stuart Little (Musical)
This musical version of E.B. White's classic tale about a little mouse born into a normal New York family further enhances the charming story of a determined "underdog" trying to survive in a "real people's world." Find out more from Dramatic Publishing

1. Mr. Popper's Penguins
This charming tale touches the heart – with lots of laughs along the way! It is hard enough for Mr. Popper, a simple painter, to support himself and his family. The addition of twelve penguins makes it impossible to make both ends meet – until Mr. Popper has a splendid idea. Find out more from Plays for New Audiences
---
Enjoyed our selection? You might also like to check out this related article: 20 Scripts in the Public Domain
In the meantime, comment below and let us know which show you'd be keen to produce – or perform in?