The Tivoli has cancelled all upcoming gigs and events and closed its doors due to the COVID-19 outbreak.
The live music venue won't reopen until Friday, 1 May 2020, with ticket holders being contacted directly by Ticketmaster. It comes as venues across the State close down due to the Federal Government advising against gatherings of 100 people or more.
Making light of the situation in a statement sent out to patrons, the venue indicated the troubling time the industry faces and how it won't stop the arts.
The music, arts and entertainment industries are hurting very significantly right now. However, as in the spirit of music and the arts, we will prosper through this with the same creative flair that we always do – with the goal of making the world a shinier place. The Tivoli has been making music with and for the community of Brisbane for over 30 years, and no virus will get in the way of us continuing to do that.
In the same statement, the venue announced they will be curating a series of live-streamed gigs that audiences will be able to watch from the comfort of their own homes.
Live at the venue's What's Golden space and entitled the 'Shutdown Series', the special gigs will be live-streamed via The Tivoli's Facebook account at various times throughout the next few months. While they will be free to watch for those who can't afford to donate, if users are feeling generous they can pay a reasonable $5.00 viewing fee with all proceeds going directly to the artists in the room.
Following each performance, Bec Mac from Bec Pops Art will sit down with each artist to talk publicly about their pathway through this unprecedented time. The full set will also be available to watch at a later time, and donations will continue to be accepted until the venue reopens.
The first artist to feature in the 'Shutdown Series' is none other than Brisbane local, Sahara Bec.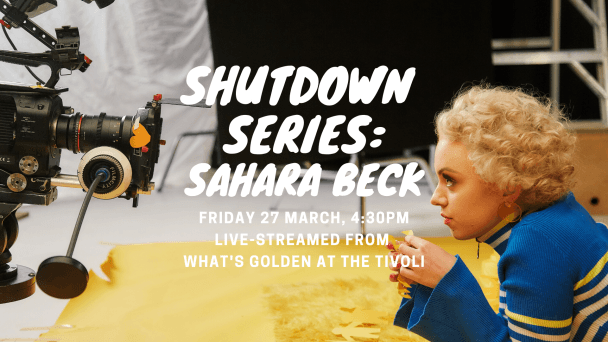 In terms of cancelled shows at The Tivoli, ticket holders are advised not to contact the venue as they will be contacted directly by Ticketmaster.
To watch the 'Shutdown Series' follow The Tivoli's Facebook Page. For information regarding individual events visit The Tivoli's Website.
Image by Lachlan Douglas and sourced via The Tivoli.