Just like that, Christmas returns. As we said last year, it is simply the MOST wonderful time of the year… again! We've compiled another theatre-related gift list to help those of you stuck for ideas, and those of you who are ready to kill it with the Christmas shopping.
Check out our top picks below and grab a Christmas gift worthy of a Broadway star.
---

Light The Way – Book ($$)

The dance lover in your life will be nothing short of inspired by the courageous and motivational stories of over 50 Australian dancers and creatives, including the biggest names in the business. Hear about the ups and downs of life for commercial dancers and Australian icons.
Visit the Light The Way Dance Collective website to find out more.
Royal Design Magazine Box ($$$)
Programs, playbills, scripts and the rest; sort your friend's theatre materials. Help them get organised with this bougie magazine box, with faux brown leather and a minimalist design. This is bound to look good in any living space.
Visit the Royal Design website to find out more.
Mini-Pro Makeup Kit ($$)
Together with a team of theatre gurus, Stage Makeup have created a simple and effective makeup kit for the performer in your life. Whether new to the stage or a seasoned professional, this kit is the perfect way to say, "Cover your face, the lights wash you out!"
Visit the Stage Makeup website to find out more.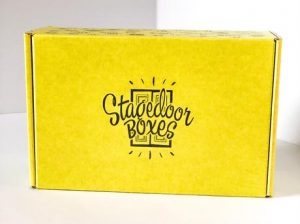 Stagedoor Box Subscription ($$)
Imagine: a monthly box of all the goodies theatre has to offer. Each box has a unique range of Broadway-related items, from stickers to shirts, to candles, to everything in between. International shipping is available for a flat fee.
Visit the Stagedoor Boxes website to find out more.
Theatre Lover Life Journal ($$)
With over 200 interactive pages of theatre-related fun, Theatre Lover Life Journal is everything your theatre enthusiast needs. Some of the incredible pages include a theatre checklist, A-Z of musicals, cast signature collections, theatre quizzes and more.
Visit the Etsy listing to find out more.
100 Songs – Musical Theatre Card Game ($$)
Let your theatre friends challenge one another to find out who is the ULTIMATE theatre geek. With songs from a range of contemporary musicals including 'Hamilton', 'Dear Evan Hansen', 'Beetlejuice', and 'Heathers', this quirky game will give your night that much-needed theatre flavour from the comfort of the living room.
Visit the Amazon listing to find out more.
My Musical Theatre Checklist – Poster ($$)
Everyone has a world map to scratch, why not a musical checklist too? With over 49 musicals and stickers to place, this interactive art piece is exactly what your theatre geek friend needs for their room or hall. Beautiful hand-drawn designs and recognisable graphics aplenty, because why not?
Visit the Etsy listing to find out more.
Bloch Dance Bag ($$)
Every performer needs a go-to bag for auditions, rehearsals and performances. Bloch has dance bags in a range of styles and types. From duffles to satchels, sacs to garment bags, Bloch is your go-to Australian brand for epic dance/performer bags.
Visit the Bloch collection to find out more.
Ausmusic T-Shirt ($$)
What would life be without music? Especially good quality Aussie music. Support the musicians, and give your arts-loving friends a gift they can use. Ausmusic T-Shirt Day is held annually on November 19th, so the shirt will even have a special day for wearing. 
Visit the Ausmusic T-Shirt Day range to find out more.
Musical DVD Collections ($$)
There are a range of DVD musical box sets ready and waiting for you to binge. While not quite the same as a live performance, you can relive some classic film renditions in the comfort of your home.
Some of our picks include: Musicals The Collection, Golden Age of Musicals Collection, The Greatest Musicals Film Collection, and Andrew Lloyd Webber Collection
We all know a theatre fanatic who would simply fall over if they opened one of these on December 25th.  Let us know if you choose something from our list, and how your loved one reacts! Which would you like to receive?