What do you get when you mix the most magical time of year with one of the most exciting theatre forms? CHRISTMAS MUSICALS! To celebrate the festive season we've gone on the hunt and compiled a list of very Christmas musicals that you can stream from the comfort of your home.
So grab your Egg-Noggs, switch on the tree lights, find an ugly Xmas shirt, and make your way through our recommendations. (Note: some of these may require subscriptions to streaming services for access)
---

Jingle Jangle: A Christmas Journey (2020) on Netflix
Join Forest Whitaker, Keegan-Michael Key, and Hugh Bonneville as a downtrodden toy-maker learns how to hope again, with the help of his wonderful granddaughter.
Scrooge (1970) on iTunes
This Oscar nominated rendition of A Christmas Carol is a staple of the holiday season. Visit the ghosts of past, present and future with the incredible Albert Finney as Scrooge.
Dr. Seuss' The Grinch Musical (2020) on ABC iView
Recorded at a live performance in the Troubadour Theatre, London, this whimsical tale brings the anti-Christmas icon Grinch to life. And Who? Whos.

Elf: Buddy's Musical Christmas (2015) on YouTube Movies
Based on a stage musical, based on a film, this movie musical brings all the laughs and Christmas spirit, with the excellent Jim Parsons as Elf.
The Year Without a Santa Claus (1974) on DailyMotion
The cutest ever stop-motion animated television special, The Year Without a Santa Claus is based on the 1956 book of the same name. All the Christmas cuteness!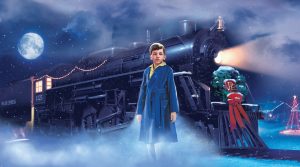 Polar Express (2004) on Netflix
With the voice of Tom Hanks, and a magical story of belief set on Christmas Eve, Polar Express is an unconventional musical, ready for a stage adaptation.
White Christmas (1954) on Stan
The epitome of classic musical movies, White Christmas set at the height of WWII. Starring Bing Cosby and Rosemary Clooney, and with music by Irving Berlin.
The Nightmare Before Christmas (1993) on Disney
Did somebody say Tim Burton? The second stop-motion on our list, this one is a little on the darker side, following Jack Skellington and his abduction of Santa Claus.
Meet Me in St. Louis (1944) on Amazon
Adapted from a series of short stories by Sally Benson, Meet Me in St. Louis is a vignette musical exploring a year in the life of the Smiths.
---
Christmas musicals are the ultimate feel-good family-friendly holiday activity. Share some belly laughs, sing-a-longs, and memories with your family and friends. What is better than a lot of music, wholesomeness, and theatre?