Theatre Haus has joined the long list of pages affected by the recent Facebook ban of all Australian news. 
In the early hours of Thursday morning, Facebook restricted Theatre Haus' Facebook page and our ability to communicate with our audiences. This has meant editorials, reviews, and other important arts and entertainment content could no longer be posted or shared on the Facebook platform; thus altering our ability to publish any arts and entertainment issues to our audiences. 
The 'Facebook Ban' has been an ongoing discussion for some time. On 20 April 2020, the Australian Government asked the Australian Competition & Consumer Commission (ACCC) to "develop a mandatory code of conduct to address bargaining power imbalances between Australian news media businesses and digital platforms, specifically Google and Facebook." 
The new legislation has been passed in the lower house of the Australian Parliament but is yet to be approved by the Upper Chamber, the Senate. Facebook has retaliated with a broad statement of what constitutes 'news' on their platform, leading to sites such as the Bureau of Meteorology, 1800Respect, the National Food Bank and many other community sites being given the boot.  
While most Australians were caught off-guard by the 3:00 AM cut-off, the Federal Government has not backed down from the code.
What has been banned? 
If you are a fan of checking the news, media outlets and other related articles on Facebook, prepare to enjoy more photos of your friends' brunches and pets. While media pages still exist, their posts have vanished and most news links cannot be shared. 
This has also affected thousands of not-for-profit organisations and groups, and many key audiences who rely on Facebook to receive important information regarding the pandemic. Many of these groups use Facebook as their website. This change is likely to affect business and employment. 
Even Facebook's own official page couldn't post when the ban took effect: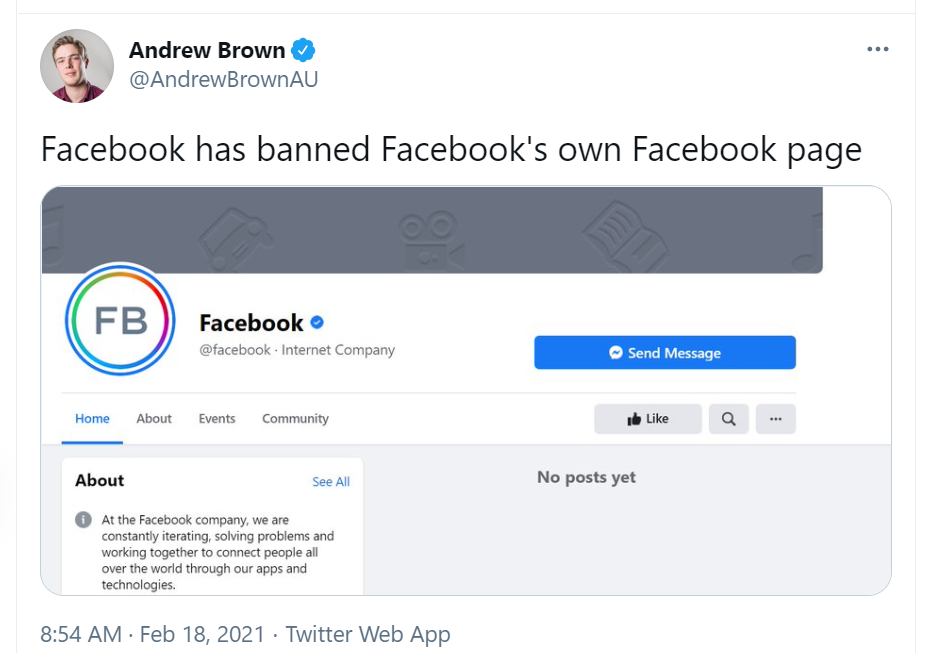 What does this mean for Theatre Haus moving forward?
Theatre Haus launched into the public eye in February 2019 primarily across Facebook and our website. We quickly established a following who enjoy a wide variety of posts from us – from games to reviews, editorials and breaking industry news. We also assist community, independent and professional theatre sectors in Southeast Queensland by providing a free service and platform for resource sharing. 
As a digital platform for community connection across theatre sectors, this is a monumental shift that deeply saddens the Haus team. While we've tried to navigate the effects of this page, we need to act quickly to preserve our group and its ability to communicate to our following. 
Help Theatre Haus in our move!
Theatre Haus will continue its publications across our independent website and will start a newsletter to share information and advertisements. 
To support Theatre Haus, please sign up for our newsletter and continue staying in touch with our new articles on our website. In happier news, our Play Haus Podcast has not been taken down. Please continue to support us by listening to the show across Spotify, Apple Podcasts and Stitcher. Subscribe to stay up to date with all incoming shows. 
As for Facebook, we'd still like to be friends and we've sent our request. The ball's in their court.