Returning for its fourth year after rave reviews, shake & stir's 'A Christmas Carol' is back at QPAC's Playhouse Theatre to delight and fright from 2 to 24 December 2021.
"There are some frights that ambush the kids a little bit; I wouldn't take the very young," actor Bryan Probets told Theatre Haus, recommending the production for ages eight and older.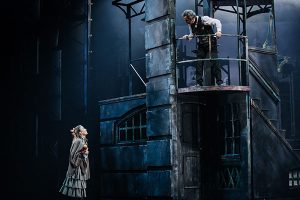 Probets had nothing but praise for the production's creative team; the "very evocative" sound design by Guy Webster, with a gothic feel that complements Josh McIntosh's sophisticated, multidimensional set design.
"It's quite gloomy and wintry, which is ironic considering the weather we have here in Brisbane," he said. "There are about four or five set pieces that are very interchangeable. The team named them, so they know which set piece needs to move where…there are four sides to each set piece–like Tetris and Lego combined onstage." 
Then there's what Probets called the "visual trickery" from optikal bloc's Craig Wilkinson, providing the cast with the unique experience of acting live on stage alongside a recorded "hologram" version of other characters Probets portrays.
"Without too many spoilers, when we first did it back in 2018, we filmed some scenes, particularly for the holo-gauze which helps with the hologram – what it's projected onto – an invisible screen or scrim the audience can't see," he explained. "That's how it's done and that's interchangeable with the live me that appears working with filmed versions of myself."
It's a busy 90 minutes for Probets, who plays Jacob Marley's ghost and the Ghosts of Christmas Past and Present. 
"I used to also play the Ghost of Christmas Future, who has no dialogue, but that's been taken over by another actor, because by the end of the play I'm like a wet rag; I'm sweating so much," he laughed. "Josh McIntosh, who is also the costume designer, decided to dress me in huge cloaks for Past and Present, so I'm sweating like a pig." 
So how did Probets prepare for his multiple roles?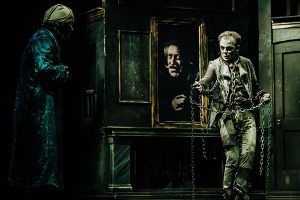 "You just have to remember they're all individual characters and people," Probets said. "Marley's ghost – was he just like Scrooge? He's bitter, he's lived in London, he might have a bit of a London brogue…almost a low sort of sound, quite hardened sound because he's hardened by working in finance and money lending…sort of similar to Scrooge; not very feeling or emotive."

Probets notes the way author Charles Dickens wrote the Ghost of Christmas Past leaves open to interpretation whether they are male or female. Probets appears in a dress with a powdered wig and drew inspiration from the British TV show 'Doctor Who'.
"The latest incarnation is portrayed by an actress from the UK, from Yorkshire – Jodie Whittaker is the actress – and I used her kind of brogue," he said. "It's kind of childlike because it's the past, but also sinister, because the function is to warn, educate, teach."
Probets took on a third accent for the Ghost of Christmas Present, as the script suggested he was Glaswegian.
"I did a bit of research with actors from that area of Scotland, watched lots of interviews of them talking. It's very jolly, almost [like] Father Christmas."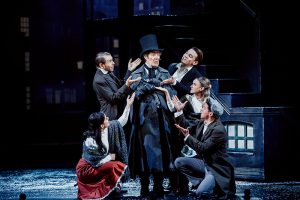 Although there was only a short week-and-a-half rehearsal process this time around, Probets said it's made easier by the fact the cast members are all friends who work hard and have lots of laughs. He calls it a "kaleidoscopic" production that covers many themes–including one he feels is particularly relevant today.
"The timeless thing about the story is that we're still learning from it today; nothing has changed in the fact that we live in a very materialistic world," he said. "It honours materialism, celebrates that, but at such a large cost: a cost of our kindness, our soul, of just being human. And I listen to some of the dialogue in the dressing room and it's so true. Is your idol money and at what cost does that take to make you happy? What do you have to sacrifice to be happy with money? Nothing's changed in that regard; we can still learn that moral today more than ever because I think we are, in the Western world, incredibly materialistic."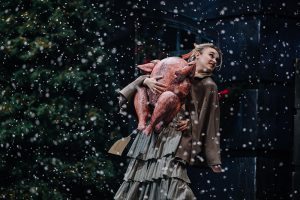 For more information or to buy tickets, visit QPAC's website.
Photos by David Fell and Craig Wilkinson