Tis' the season for theatre launches and Lynch & Paterson have delivered a stellar line-up for 2020. Keeping their season under wraps for many months, the independent theatre-makers finally revealed what they have planned at their recent launch event last Friday evening.
Held at the glorious Princess Theatre in Woolloongabba, which has been home to Brisbane creatives since its construction in 1888, Lynch & Paterson's season aims to be "a year to treasure", just like the building itself. From the soaring ceilings, ornate exterior and large stage, the Princess Theatre is the perfect location for a new generation of artists.
Producers, musicians, performers and theatrical enthusiasts, Lucas D. Lynch and Samantha Paterson, formed 'Lynch & Paterson' in 2015 and have since focused their attention on producing high-quality concerts, revues and cabarets. Following the success of their first staged musical 'Cinderella' in 2019, the team have set their sights on a massive 2020 season with shows spanning from pirates to Jedi's, superstars and divas.
Next year will include eight productions, bookended by musical classics, 'Pirates of Penzance' and 'Jesus Christ Superstar' – two works vastly different in style but equal in musical genius. The emerging company will continue to celebrate the greatest composers of all time in musical revues and concerts surrounding the work of Sondheim, Bernstein, John Williams and Andrew Lloyd Webber. 
Supported by the incredible Cadenza Chamber Players, this 2020 season is sure to be a musical treat. 
Lynch & Paterson create works that monopolise on the extraordinary musical talent Brisbane has to offer through creating works that lend themselves to showcasing orchestral ensembles. The Cadenza Chamber Players perform at a majority of the Lynch & Paterson productions and this season is no exception.
Several of the Cadenza Chamber Players provided a sneak peek into the music that will be featured in the 2020 season from the soaring melodies of Andrew Lloyd Webber's 'Requiem' to the themes of Jaws, Star Wars, Superman and Schindler's List by mastermind John Williams.
The upcoming season will not only be performed at the Princess Theatre but extend to La Boite Theatre, St John's Cathedral, The Events Centre Caloundra and Redcliffe Entertainment Centre among others.  
In an evening of celebration and goodwill, it was evident Brisbane theatre will surge in the new year. Here's to #aYearToTreasure!
Lynch & Paterson 2020 Season: 
'The Pirates of Penzance: In Concert' – 21-22 February 2020
'Divas of the Stage' – Touring May 2020
Andrew Lloyd Webber's 'Requiem' – 30 May 2020
'A Morning with Bernstein' – Touring June/August 2020
'A Celebration of Stephen Sondheim' – 29 August 2020
'Music of John Williams' – 25 September 2020
Andrew Lloyd Webber's 'Song & Dance' – 8-10 October 2020
'Jesus Christ Superstar' 4-12 December 2020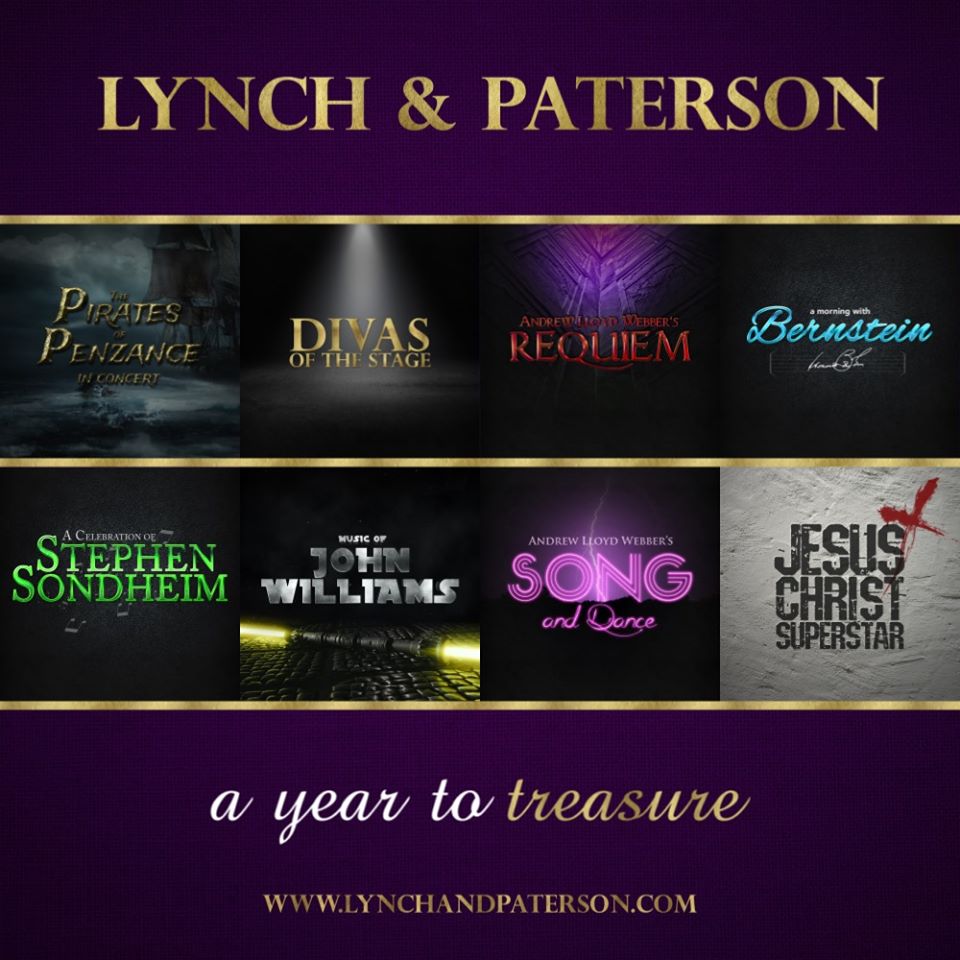 For more information, visit Lynch & Paterson's Website.